Progress Publishing Co.

Horse Racing Rules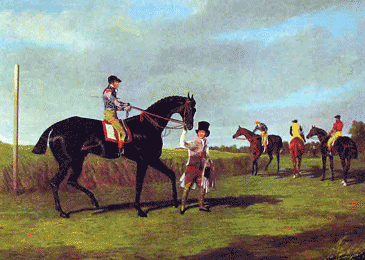 Horse Racing Rules
*******************************************************************
Horse racing rules
Horse racing officials
Horse racing rules for horses
Horse racing rules for disqualifications
Horse racing rules for jockeys
Horse racing responsibilities of the trainer
*******************************************************************
Horse racing rules
1) All horses must be paraded in front of the stand before the race.
2) The horses start the race from the starting stalls, or from the gate or by the flag.
3) If there was a false start the race can be restarted.
4) The first horse to cross the finish line is declared to be a winner.
5) If few horses cross the finish line at the same time the finishes are determined by looking at the order in which the noses crossed the finish line.
6) If the two horses have finished first in a dead heat, both of them are declared winners. The prize money for first and second place is divided equally between both winners.
Horse racing officials
The officials that supervise the racing are called stewards. Other officials include:
1) Racing secretary who makes plans and arrangements for horse races and is in charge of the track.
2) The handicapper – this racing official prepares weights for the handicap races.
3) The weighing officer who supervises weighing in and weighing out procedures.
4) The judge who declares the final result of the horse race.
5) The race starter.
Horse racing rules for horses
1) The age of a horse starts from the 1st January of they year when it was born.
2) The minimum age for a horse to run on flat tracks is 2 years old.
3) The minimum age for a horse to run over hurdles is 3 years old.
4) The minimum age of a horse for a steeplechase is 4 years old.
5) Blinding hoods for the horses are forbidden.
Horse racing rules for disqualifications
1) A horse may be disqualified if it interferes with another horse anytime during the racing.
2) A horse will be disqualified if its jockey rides it in a dangerous manner and jeopardizes the chances of another horse.
3) If a jockey's weight is less than his weigh-out weight by more than an allowed amount, the horse will be disqualified. Usually after the race only the weights of the first four jockeys are checked again.
4) If a horse is out of control just before the start of the race it may be disqualified.
Horse racing rules for jockeys
1) A jockey must have a state-issued license.
2) All jockeys must be weighed before the race.
3) A jockey must wear a protective helmet.
4) Jockey's shirt and trousers must have owner's colors.
5) A jockey can be substituted by another jockey before or after weigh-out.
6) A jockey has to give his horse the best chance to perform as best as it can possibly do.
Horse racing responsibilities of the trainer
1) A trainer is responsible for the correct weight carried by his horse, which includes the weights of a jockey and equipment (a saddle, martingale, clothe with number, breastplate etc…).
2) The saddle is the responsibility of a trainer if a jockey is an apprentice.
Copyright Progress Publishing Co. 2006
Selected References:
| | |
| --- | --- |
| John Scarne New Complete Guide to Gambling | The Gambling Times Guide to Winning Systems |
| Kelso Sturgeon Guide to Sports Betting | Alice Fleming Something for Nothing/A History of Gambling |
| Carl Sifakis The Encyclopedia of Gambling | Alan Wykes The Complete Illustrated Guide to Gambling |
---