Progress Publishing Co.

Dice Control for Casino Craps / Gambling Disciples of God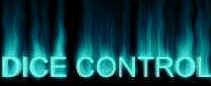 Excerpt from Chapter 4

What is Dice Control?
*******************************************************************
Definition of Dice Control
Two methods of controlling the dice

in the history of Dice Control

Definition of controlled throw

, which is important element of Dice Control

Why controlled throw taught in this book is undetectable
Four casino requirements for the throw of the dice
Why previous controlled throws became obsolete
"Positive" controlled shots versus "percentage" throws
When the perfect dice behave like the "percentage" dice
*******************************************************************
Definition: To control the dice is to change the frequencies of the dice totals determined by Table 2.
According to that table, for ex, a 7 is supposed to come up, in average, 6 times out of 36 rolls. If I'll roll it, in average, 5.4 times out of 36, instead of usual 6 times, then I control the dice. The change in frequencies will lead to the change in the probabilities and the odds in Table 3 and Table 4. Suppose, after exercising dice control, a 6 is thrown, in average, 5.4 times out of 36. That makes the odds of making the point 6 equal 5.4 to 5.4, instead of regular odds of 6 to 5 against it (see Table 4). We can profit from that change in odds, if we'll make a place bet on a 6. New odds will give that bet an advantage of 8.3% for the player over the house. Regular odds of 6 to 5, as you can see it in Table 5, give the house an edge of 1.52% against a player.
That's why dice control was always the dream of every player. Nevertheless, an average craps player knows absolutely nothing about the methods of dice control. A player does not even suspect that it is possible to control the perfect (fair, square) dice on casino craps tables and how Dice Control can be achieved.
Throughout the history of modern craps dice control was achieved by two methods:
Crooked Dice – in that case dice control was realized through the use of a cheating device,
Controlled Throws – this time dice control becomes feasible due to a physical skill of controlling the dice by throwing them in a special way.
Definition: Controlled throw is a method of dice control, and it is a physical skill of throwing the dice in a predetermined fashion, which changes the frequencies, the probabilities and the odds of the dice totals.
Crooked dice are not the subject of this book, because they are simply useless for casino gambling. They've been around for so long, they can not be used in casinos. First of all, in order to use them, you have to be a real sleight-of-hand to introduce them into the game. Even if you'll be able to do it, the crooked dice will be spotted fast by trained casino personnel. The crooked dice is a sacrilegious crime in the eyes of the casino. It is a bad idea to spend few years in Nevada jail – the summer is too hot in the desert, and the winter is too cold.
Controlled throws are the only way to play craps in casinos safely and at the same time to enjoy favorable odds by applying Dice Control. It is very hard and sometimes impossible to detect controlled throw. Even if you make an unusual movement with your hand that catches an attention of casino personnel, you probably do it for Luck, or you just try to look smart and fancy yourself as a gambler........
---
Gambler Place Online Casino Portal


What Casino Banner Exchange
---
Click : HOME PAGE CONTENTS DIAGRAM ORDER LINKS CRAPS HISTORY
CRAPS SYSTEMS CRAPS RULES CRAPS GRIPS DISCIPLES DICE CONTROL CRAPS MASTER